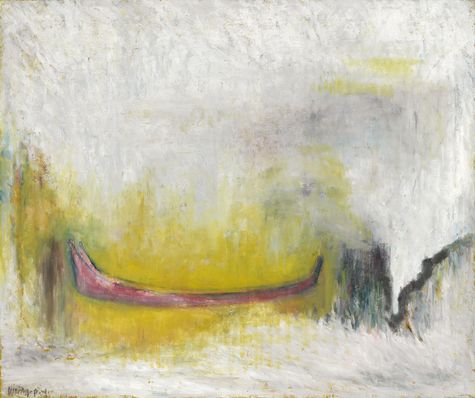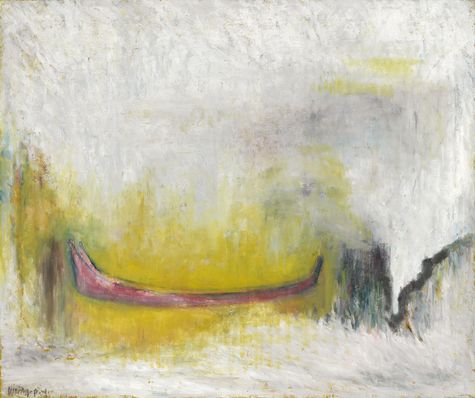 Estimate
TWD 1,400,000-2,400,000
HKD 360,000-617,000
USD 46,500-79,700
CNY 330,000-566,000
Sold Price
TWD 1,560,000
HKD 409,449
USD 52,774
CNY 369,668
---
Signature
Signed lower left Wang.P.Y

PROVENANCE:
Pretty Gallery, Taipei
Former collection of Dr. and Mrs. Li
Acquired by the present owner from the above
+ OVERVIEW
THROUGH HIS ART WITNESS THE AESTHETICS OF SOLITARY, THE POET ON CANVAS, WANG PAN-YOUN

His life was arduous. He graduated from Shanghai Fine Arts Schoolin 1936, and studied under masters such as Liu Hai-su, Pan Yuliang and Pan Tian-shou etc. In 1949, he followed the National Government's step to come to Taiwan and first cettled down in Feng Shan. He was recommended by his cousin to teach at Lo Tung High School and subsequently lived in Yilan in 1952. He has dedicated his whole life to the education of Lan Yang Art and kept on creating over sixty years. In 2001, Wang Pan-youn won the 5th National Award for Arts. He was nearly at ninety years of age. As once said regarding his well deserved award" An artist who has self-reflection… In today such a loud and noisy era, he always closely observes himself, throughout his delicate and passionate emotions to interpret the theme concisely, and present an unique and refined style under the specific environment of Taiwan.

"A painter must have his own system and style, that is solitude." — Wang Pan-youn

Same as the traditional Chinese literati, he possessed of good virtues as noble and virtuous, Wang Pan-youn believes that "painting is depicting the mood of oneself", and his mindset often blends with his favorite poems and delineates a situation mixed with tragedy and joy. The art critic Hsieh Li-fa once described that the realm of Wang Pan-youn is like a poem, instead of using the language of poetry to paint, but more is "painting in the language of his hometown". Themes such as boundless world, sun, man in red, deformation of dogs and horses, thatched houses and lonely sailboat frequently appear in the works of Wang Pan-youn, clearly beneath them are exceptional emotions and memories. According to his words, he often paints world that depicts the brimless grassland of his childhood hometown, bue to the lost of his father when he was young, he always either played alone in the grassland or with his dogs at home. Because of the power struggling within his extended family, this had eventually led to the unique solitariness found in his creation and reached such a seclusion manner.

His thinking transcends times, while his unique use of color and space to convey memories as a faintly discernible mysterious metaphor, the cultural connotation is deeply embedded in Eastern cultures. The themes of his paintings included the creative artistic concepts of people, nudes, nature and animals. Whichever the subject it is, from people, birds, dogs, cows, goats or eagles, they are all incarnations of himself, constituting an autobiographical monologue. Female nudes or dancers in his work signal memories of the loves of his youth, somewhat nostalgic of the place where he grew up. Thus, the artist mingled love and nostalgia together through the layered colors of dreams and feelings. A boat, the sun or the moon, on the other hand, were poignant symbols expressing his feelings, an artistic concept similar to poetry used to dilute the pain of his life and homesickness. His landscape paintings are not expressive melodies of beauty. At times, they have a distinct avant garde style, comprised only of a single color in an abstract composition conveying a modern feeling.

A WANDERING SOUL THAT STANDS ON HIS OWN

His narrative lonely yet poetic, which symbolic meaning are abundantly reflected in his paintings. Though the colour composition is simple but full of modernity, completely transcends in time and encompassed of richness in the humanity that is only seen in the Oriental East. Due to the hardship throughout his life and lack of materials, oil paint was definitely more precious to him at that time. During his creative career, his oil paintings were relatively scarce, mainly focuses on ink and watercolor. "Homeland Return" is one of his rare oil paintings. From other country to homeland where is his motherland. The life of Wang Pan-youn was sadly drifted because of war, the boat lingered in his heart with fond memories between his young self sailing with Ji Zhu-jun in Suzhou and Hangzhou, the depiction of boat is also a metaphor of homesick to his native land, which he is eternally nostalgia for. The lonesome sailboat depicted in "Magnificent Landscape" as if himself finally saw through the vulnerability in life, mass area of blue and black applied in the canvas created the ethereal spirit of the universe. Daughter Wang Duo-tsu once said that most of his father's paintings were not for sale, many people wanted to buy them but he insisted on not selling them. Yet in 2014, he generously reacted the call from the non profit organisation Yilan Love to donate "Breath of Autumn" which he has kept for 30 years without hesitation. Both the "Thatched Cottage" and "Hometown" have Wang Pan-youn's timeless yellow and green tones, which represent heaven and earth respectively, "Thatche Cottage" was selected by artist as the cover of his business card. With his artistic language so autobiographical, he fearlessly self examined and even passionately touches the heart of viewers. One of works in this auction "Return" Moreover the feeling of deficiency symbolized by Ji Zhu-jun have therefore become the homeland that he has kept searching for all of his life.

The life of Wang Pan-youn bumpy yet rich is epitomized in hisworks, viewers can clearly feel from his delicate and mellow paintings. The symbolic atmosphere of loneliness depicted in his paintings are all of his emotions expressed, his bitter aesthetics is sort of like poetry that can downplay the nostalgia and distress in life. His creation is profound, restrained but full of emotion, which entirely reflects in his most extraordinary artistic life that was cultivated through historical turbulence and cultural exchange."I have always felt that there must be an essence or vitality to the substance of a painting. For example, the splash of the brush stroke of a splashed color painting allows the picture to have a dynamic element that renders the picture grand and magnificent and truly interesting, and when people look at it, it's like seeing
a hero with all the glory." Wang Pan-youn was always passionate about his paintings. Look back at the artist's life, both of his personal character and the character of his paintings are admirable and deserved being known as the master of the generation.
Modern & Contemporary Asian Art
Ravenel Spring Auction 2020 Taipei
Sunday, July 19, 2020, 12:00am