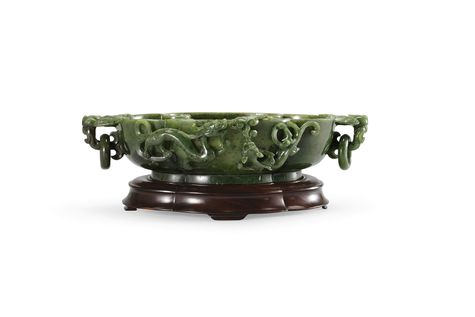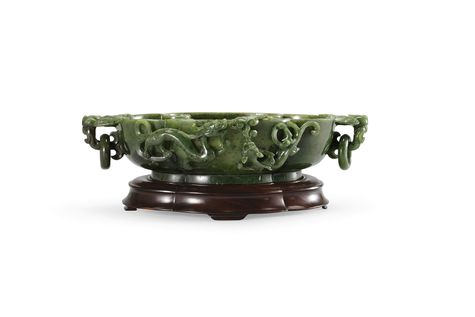 Estimate
TWD 600,000-950,000
HKD 154,000-244,000
USD 19,900-31,500
CNY 142,000-224,000
---
+ OVERVIEW
This brush washer is carved into a spinach-green jade boulder into a ruyi shape. The style is solemn and classical. The opening was carved deeply with a plain inner structure and thick walls. Ruyi are held in the mouths of the dragons as they walk around the exterior of the brush washer, forming an S shape. Their legs are outspread and their tails are curled, as if they are in motion. The two handles were carved with two phoenixes with wide spread wings and dangling rings. The coexistence of dragons, phoenixes and ruyi suggests a blessing to the owner. Excellent craftsmanship results in a lustrous jade with vivid characters and a solemn style.

The jade material used in this jade was produced in Hetian, Xinjiang. A large piece of boulder is needed for this rare piece of art. This jade is semi-translucent and has an intense dark green with black and white inclusions. Jade objects have been treasured by emperors, especially Emperor Qianlong of Qing Dynasty. Its origin Xinjiang is also closely related to this emperor. In 1759, after 70 years of Dzungar-Qing Wars, the Qing troops defeated Dzungar and incorporated Outer Mongolia, Tibet and Xinjiang into the Qing Empire. Hetian jades had since served as gifts to the emperor. These jade pieces were then carved into art objects
such as seals, ruyi and ornaments for imperial use.
Curios: Chinese Works of Art
Ravenel Spring Auction 2020
Saturday, July 18, 2020, 12:00am