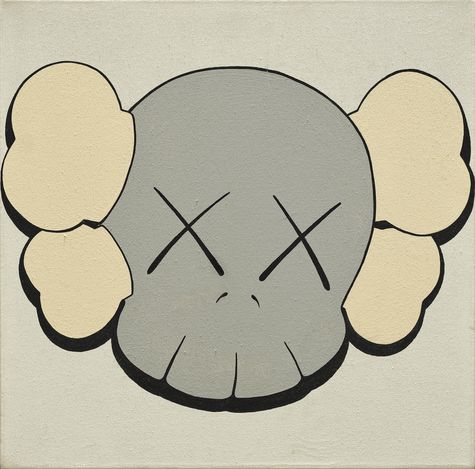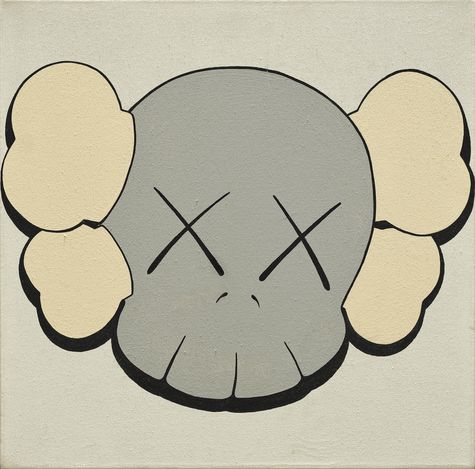 Estimate
TWD 1,500,000-2,400,000
HKD 399,000-638,000
USD 51,400-82,200
CNY 353,000-565,000
Sold Price
TWD 2,040,000
HKD 554,348
USD 71,579
CNY 466,819
---
Signature
Signed reverse KAWS.., inscribed Paris. P. and dated 99
PROVENANCE:
Sotheby's, New York
+ OVERVIEW
KAWS worked at the Disney animation studio Jumbo Pictures for three years after graduation. His experience making drawings for animated TV series provided inspirations for his well-liked cartoon characters in the future, including the Kimpson , Smurfs , KAWSBOB, and BFF(Best Friends Forever). As in the past when he borrowed from commercials, KAWS has also borrowed from the imagery of his cartoon classics, such as the Simpsons , Smurfs , and SpongeBob SquarePants . Around the year 2000, KAWS began to paint these cartoon images on canvas, and these acrylic paintings have become some of the most sought-after works on the auction market.

After visiting Japan in 1999, KAWS began to produce small-sized sculptures, with Companion being one of the most notable examples. Companion was the earliest toy figure created by KAWS, with his highly recognizable skull and bones, and XX marks as eyes. The figures are also known for wearing gloves, shorts and shoes. From then on, KAWS created other Companion series, including Companion - Passing Through (2011), Along The Way (2013), Clean Slate (2015), Together (2017), and Waiting (2017). All of these exhibit a touch of sensitivity consistent in the works of KAWS, displaying imagery of mutual support and nurturing between people. KAWS exhibited a large sculpture titled Gone (2019) at the National Gallery of Victoria in 2019, showing Companion cradling BFF, a new character created in 2016. The work imitates the posture of Virgin Mary cradling Christ just after his death, evoking the image of Pietà (1498-1499) by Michelangelo (1475-1564). KAWS has also toured around the world with a 28-meter long inflatable Companion, which was followed by the KAWS: Holiday Space project when Companion traveled upward into space.

The artistic impact of KAWS has grown over the years, prompted by collaboration with major galleries, including Perrotin and Skarstedt Gallery, as well as solo exhibitions at various notable art museums, including Yorkshire Sculpture Park (2016), Yuz Museum Shanghai (2017), and the National Gallery of Victoria in Melbourne (2019). KAWS also set an auction record of NT$380 million last April with The Kaws Album (2005) based on the theme of The Simpsons. The Ravenel Autumn Auctions 2020 will feature three works by KAWS from various periods – they are dazzling and worthy of collectors' attention.


Select: Modern & Contemporary Art
Ravenel Autumn Auction 2020
Saturday, December 5, 2020, 12:00am